I'm pleased to announce the long awaited release of BlinkStick Client application. The application has been completely redesigned with a massive amount of new features. Please note that all your current notifications can not be imported to the new application.
Features at a glance
Supports all BlinkStick devices (Original BlinkStick, Pro, Flex and Nano)
Supports all LEDs on devices
Completely rewritten LED animation engine
Completely rewritten ambilight notification with support for DirectX games
New notification types include Moodlight, Application, RAM, Battery, Disk space and ability to remotely control BlinkStick client application via HTTP requests
Customization of patterns and pattern animations
Ability to select and test LEDs in the GUI for all supported devices
Overview page
The overview page lets you see and configure every connected BlinkStick. Each device is represented with an image and you can select and control the color of each LED connected to the device.
The configuration button next to the list of the devices lets you specify the number of LEDs connected to BlinkStick Pro, change the mode of a supported device and limit brightness.
Notifications
The notification window lists all your configured notifications for the device.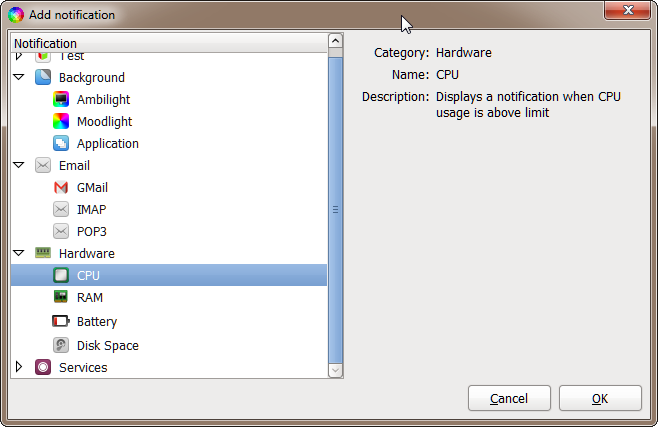 Notifications are grouped into categories.
Test - lets you create a periodic test notification
Ambilight - creates an ambilight effect behind monitor or TV, also works with DirectX games too!
Moodlight - transitions random colors
Application - automatically plays pattern when top level application changes
GMail, IMAP and POP3 notifications are designed to let you know when new email arrives
CPU, RAM, Battery and Disk Space - can either alert with a notification when usage is above limit or change color depending on the percentage
Keyboard - play pattern when key combination is pressed
Remote Control - allows remote control of the application via HTTP requests. Read more…
BlinkStick.com - allows user to control BlinkStick remotely via BlinkStick.com website
Patterns
The application comes with patterns already preconfigured for you, but you can define your own pattern sequences. Play button next to the pattern name lets you preview the pattern on the emulator.
Settings
Settings pages lets you control if application is started automatically with Windows, change theme and configure logging.
Download
BlinkStick Client application can be downloaded by following this link:
Changelog
2017-12-19 2.0-rc10
Improvements to application title detection
Switched to HTTPS based API address for BlinkStick.com notifications
2016-03-20 2.0-rc9
Mac OSX support, tested on Mavericks and Yosemite. Not all notifications are supported.
New icons for UI
Latest version of GTK 2.12.30 supported
2016-03-15 2.0-rc8
Fix crash when BlinkStick is first time detected
Optimize overall CPU usage
Optimize ambilight notification to send data only when color changes
Added duration parameter for standalone BlinkStick.com server
2016-03-07 2.0-rc7
Keyboard notification to play pattern when keyboard combination is pressed
Ability to use standalone BlinkStick.com server
Option to turn off BlinkSticks when exiting application
2016-02-25 2.0-rc6
Ability to specify channel for notifications to support all channels of BlinkStick Pro
Improved pattern animations, now they are a lot smoother
Improvements to remote control notification which adds support to specify channel, first and last LEDs. Support to set color or play pattern. More details can be found in the wiki page.
2016-02-10 2.0-rc5
Improvements to moodlight. Transition from one color to another instead of switching, ability to configure animation speed.
2016-02-03 2.0-rc4
Fix crash when settings folder did not exit on fresh install
Improvements to ambilight support with DirectX 9, 10 and 11
Stability improvements for BlinkStick.com connectivity
2016-01-14 2.0-rc3
2016-01-07 2.0-rc2
Fixed issues with connectivity to BlinkStick.com
Fixed crash when BlinkStick inserted and removed quickly
Fixed UI update after mode has been changed on a device
Feature - Settings panel
Feature - Run automatically on Windows startup minimized to tray
Feature - Select logging level and open logs
Feature - UI theme selection and additional Paper theme
Feature - Button to quit application
2015-12-10 2.0-rc1
Previous Versions
BlinkStickClient-Setup-2.0-rc9-x86.exe
BlinkStickClient-Setup-2.0-rc8-x86.exe
BlinkStickClient-Setup-2.0-rc7-x86.exe
BlinkStickClient-Setup-2.0-rc6-x86.exe
BlinkStickClient-Setup-2.0-rc5-x86.exe
BlinkStickClient-Setup-2.0-rc4-x86.exe
BlinkStickClient-Setup-2.0-rc3-x86.exe
BlinkStickClient-Setup-2.0-rc2-x86.exe
BlinkStickClient-Setup-2.0-rc1-x86.exe
Feedback
Your feedback is very important to us. Please post your comments, questions and feature requests either as a comment or start a new topic in the forum.